When:
March 9, 2017 @ 7:30 pm – April 27, 2017 @ 10:00 pm
2017-03-09T19:30:00+00:00
2017-04-27T22:00:00+01:00
Where:
The River Room
Halton Mill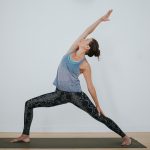 A Yoga Alliance Certified Yoga Teacher, Robin relocated from America to Halton with her family four years ago. In her near-two decades exploration of yoga, she has had the privilege of studying with leading yoga teachers in New York, India, Los Angeles, China and beyond. Her Slow Flow class is a balanced, invigorating, and playful style of Vinyasa Yoga which highlights the transitions (flow) from one asana (posture) to another in synch with the breath. The unhurried pace of Robin's class allows for time to be taken to feel into each asana and transition, fostering deep inner listening and transformation. Variations are offered so that each student can choose the level of challenge and intensity appropriate to them.
Robin's SLOW FLOW class on 
Thursday
* 7.30-9pm will help build strength, balance, flexibility, and improve overall well-being.
*classes are held weekly during school term time only, unless otherwise specified.