When:
September 5, 2017 @ 12:30 pm – 2:00 pm
2017-09-05T12:30:00+01:00
2017-09-05T14:00:00+01:00
Where:
The River Room
Halton Mill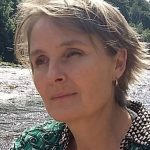 My teaching combines yoga styles: synchronizing breath and movement in the dynamic style of Vinyasa Flow, working closely with static posture alignment in Hatha and melting into the meditative, less dynamic postures of Yin. This is about more than working your body – everything we practice physically in yoga is intimately informed  by an ancient, rich and fascinating  philosophy going back thousands of years  and yet more relevant today than ever. I weave aspects of this philosophy into the teaching of breathing techniques, physical postures, relaxation and meditation. Through my classes, my aim is for you to feel wonderfully stretched, spacious and strengthened, your breathing smooth and regular and with a deep sense of calm and alignment with what matters in life.
All my classes are for mixed ability and I teach 3 different types of classes – Flow/Hatha, Yin/Restorative and Gentle Yoga. Please get in touch if you'd like to chat about which class you think may be the best for you
If you'd like to chat about whether this is the right class for you, please contact me on rebecca@theriverroom.org.uk  Tel: 07907374278
and if you would like more information please go to www.theriverroom.org.uk